As the weather warms up and we head into summer, lots of us look forward to inviting friends and family round and spending some time relaxing outside together.
Below we've got a few tips to help you entertain in your garden and create the perfect atmosphere.
Entertaining with a BBQ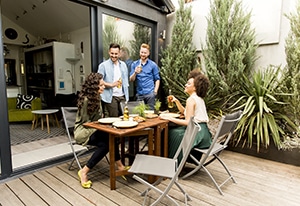 As soon as the sun is shining, and the temperature reaches the 20s we Brits relish the thought that summer is on the way. As you sit in your garden enjoying the new warmth after the cool spring, your neighbour gets out their BBQ and you secretly wish you'd planned one yourself as you smell the delicious aromas floating over the garden fence.
Having friends round for a BBQ is a great way to entertain in your garden and you can get yourself a BBQ from as little as £15! Of course, if you don't want the hassle of lighting the coals, there are plenty of gas BBQs on the market, which make cooking outside super easy.
As the sausages and burgers cook, you can enjoy a glass of wine or a beer and catch up with family as the aroma wafts around the garden, and perhaps even makes your neighbours envious!
Create an Atmosphere with Lighting
If you are planning an evening gathering in your garden, why not think about putting up some lighting? This helps to decorate your outdoor space and create a real celebratory atmosphere.
Your lighting could be singular garden lights that are set into the ground and light up a pathway through your garden. Fairy Lights can be strung around a fence or across the house, emitting a gentle light and making a cosy ambience. Or there is festoon lighting. This lighting can be strung across your patio, the big light bulbs creating a livelier festival type atmosphere.
Fantastically, a lot of outdoor lighting these days is also solar powered, so you don't need to worry about an electrical supply and you're being environmentally friendly at the same time!
Add some Fun with Bunting
Bunting is another great way to inject some character into your garden and create a fun and friendly garden space.
Originally used in the mid nineteen hundred's as a way of demarcating a street party and creating a festive and community atmosphere, bunting has now seen a resurgence and is often used in childrens' bedrooms.
But it doesn't have to stay inside. Some use bunting around the garden and along fences to create a relaxed party feel. You can purchase ready made bunting, or why not have a go at making your own?
Games for the Kids
If you have children, it's great to meet up with friends and family and catch up with the adults. Making sure there are some activities to keep the kids occupied is a great way to ensure you can natter without being disturbed every 5 minutes!
There are some fantastic garden games available, from the ever-popular trampolines, to swing ball as well as giant garden games like connect 4, snakes and ladders and jenga. Taking a few moments to plan for the kids can really make for a much more enjoyable and stress-free time for the adults – and the kids will love it too!
Of course the ultimate outdoor entertainment for a lot of kids is a bouncy castle or inflatable slide – but you'll need a reasonably big garden for these, and perhaps and adult on crowd-control duty!
Invest in a Gazebo
Gazebos are really versatile pieces of garden furniture. They can create an area of shade when the sun is just a bit too hot to sit in all day and help avoid any burnt skin. However, they can also be used if there is a light shower and there isn't room for everyone to decamp into your house.
Gazebos now come in all styles from the easy self-erect ones that you can put away each night to the semi-permanent and heavy-duty ones with curtains.
Double your space with Bespoke Doors
Another way to cleverly increase your entertaining space is with Bi-fold doors or conservatories. These allow you to open up your house allowing your indoor space to join seamlessly with your outdoor space. They can make a fantastic free-flow entertaining space, enabling easy movement between the kitchen and the BBQ, or allowing some guests to sit inside out of the sun, whilst still being part of the party.
Conservatories, also have the benefit of adding an extra room to your house. On those days when the British weather is unpredictable but you've invited a hoard of people round, you can still entertain without feeling your house is over-crowded and spill out into the garden when the sun comes out.
Thinking about choosing new doors?
If you've been wondering about investing in some bi-fold doors or a conservatory ready for the summer, our experts would be happy to discuss the different options available. Feel free to pop into our Bristol showroom or call 0117 911 0272 to arrange a visit.