A perfect home includes beautiful exterior, interior design, and well-thought-out planning. Every minor and major detail is planned to maximize look, efficiency and comfort to create your dream home.
We know planning your dream home can seem overwhelming with much to choose from and think about which is why we have created our helpful buyers' guide, helping you make those important decisions when purchasing a range of products from windows, doors, roof lights and many more. https://www.crystalclearbristol.co.uk/planning-your-dream-home/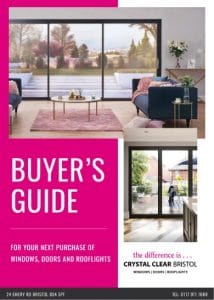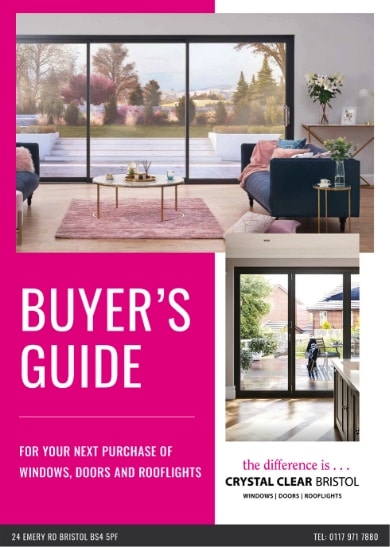 Whenever you are making a significant purchase you need to make an informed choice to ensure that any installation adds value and comfort to your home. From windows, doors to roof lights, it needs to complement the overall style of the building whilst maintaining high specifications to keep you safe and secure. Considering this, it might make you think about the things in between e.g. the suppliers, security features, colours or specifications. This blog will summarise those little details that may have big importance when making your decisions
What supplier shall I use?
Local, family-run businesses provide a personalised touch. You know exactly who you're dealing with, and chances are they will have a good reputation within the community.
Choose a sales team with experience who can provide a full service when selecting the correct product for your project, and not just provide costs. Personalised assistance and bespoke project management is key.
The selection of the product is half the service, as the installation is also key. Make sure that the installer who will be fitting the product is employed by the company and not a sub-contractor. All fitters must be MTC registered.
What are the best security features?
Security remains paramount for any window, door or roof light. This is another factor you'll need to spend some time researching to ensure that you're buying a product with suitable standards to keep you safe.
5-point and 8-point automatic locking systems, as well as 3 Star Diamond cylinders, are security features to look out for. These protect your lock against snapping, picking, drilling and bumping.
Which Material is best?
It all depends on the style of your home and the look you want to go for, these factors will determine what material to use. For example, for a more traditional home, you may want to use timber. Alternatively, for a modern house, you may want to use materials such as Aluminium or uPVC.
What glazing option will be best for me?
There are many glazing options to choose from but we would always recommend the option with the lowest U-value, this measures how well the window insulates. At Crystal Clear Bristol we use high-quality glass, Argon Gas with Warm Edge Spacer with a U-value of 1.0 on Aluminium and U-value of 1.2 on PVC. The lower the number the better.
As you can see there are many factors to think about when planning your dream home. Take a look at our buyers' guide which will go into full detail on the topics covered in this blog and useful tips and advice containing the process, installation and products.
At Crystal Clear Bristol we are always on hand to guide you through the process and answer any queries big or small you may have. We have a team of experts on hand to walk you through, step by step on choosing the right product for your home.
Speak to one of our experts on: 0117 971 7880