In 2020 Crystal Clear Bristol are proud to mark our 20th anniversary as one of the leading suppliers of windows and doors across Bristol, Somerset, Gloucestershire and the wider South West area. 2020 is the time to have the perfect vision for your home with our high-quality products and five-star service.
Boasting the largest showroom of windows and doors in Bristol, the Crystal Clear Bristol collection is expanding even further with new products and a new website coming soon. As leading experts in the fit and supply of windows and doors of all types – from uPVC to composite, aluminium and timber – rooflights, bi-fold doors, blinds and balustrades, we have plenty to offer your home. Regardless of size and requirements, our expert and talented team are on hand to present the best options available at a price that is transparent and to a timescale to suit you.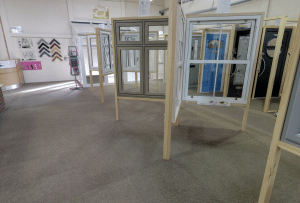 Our latest website is the digital window into how we can transform your home with some of the best products and solutions around. From the pristine Origin doors to Heritage windows, we are pleased to partner with award-winning manufacturers and provide a service that comes with a 10-year installation guarantee. Look up the specifications for each product and customise them to your desires. Plus, take a look at our portfolio of work which has seen our loyal customers recommend us time and time again.
The new year is always a perfect time to start fresh and look at your home in a different light. As a family-run business in the heart of Bristol with over 100 years combined experience in home improvement, we have all the right tools to turn your house into a home all under one roof. From minor additions to major overhauls Crystal Clear Bristol have everything you need to take your home from mundane to momentous. Our personal approach means that we deliver time after time the right quality products at the right price.
Through our new website coming later this month you'll be able to request a complimentary quote with ease where our professional team will provide a visit to your home to ensure that the product, price and project completion are delivered comprehensively to you.
To understand your requirements with regards to product type, specifications, finish and timescale we are always happy to discuss the best option for you. We know from experience that everyone is different and that our personal approach means that we deliver time after time the right items at the right price.
We look forward to welcoming you to Bristol's Biggest Showroom and sharing the first steps to a fresh look to your home with Crystal Clear Bristol.