A versatile product that has become very popular over the last few years thanks to its versatility, durability and impressive safety features, composite doors are a great choice for contemporary and older homes alike.
Styled to look like wood but manufactured for longevity, they are a robust range of doors that have many benefits. Thanks to their low-maintenance assets, composite doors require a little amount of cleaning.
But many proud homeowners would want to keep their doors and the exterior of their property looking its best. There are a few simple steps to take for a pristine finish.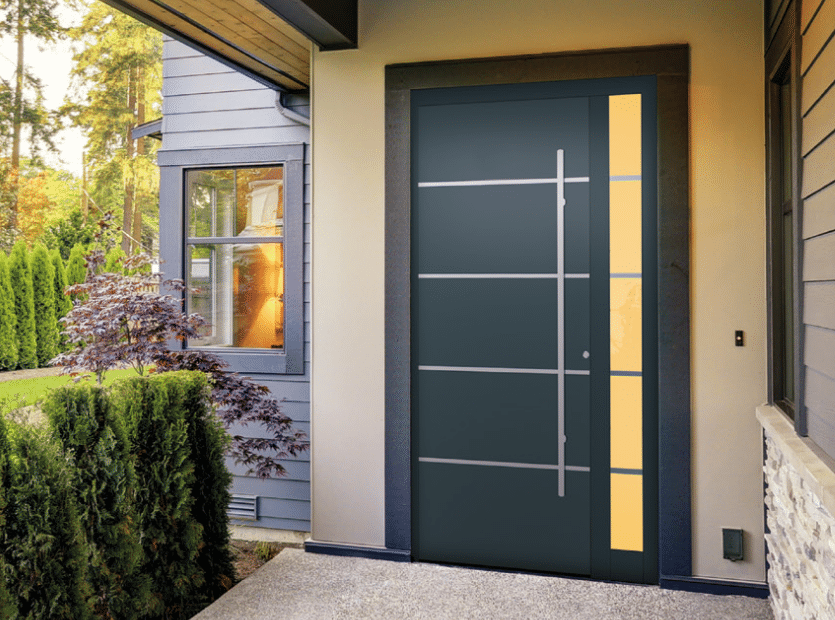 How to Clean a Composite Door
There are a number of features to tick off when cleaning a composite door. From the frame itself to the glazed windows and accessories. Each needs a fresh bucket of solution each time but will take minutes to complete.
Do Composite Doors Fade?
One of the reasons more and more homeowners are investing in composite doors is because they are hard-wearing, secure and keep their appearance over a long period of time – that's why the warranty is so generous.
The fact that these doors are made with a combination of materials, means that they are drawing from their best assets to fight against all weathers throughout the year.
One main advantage of composite doors is that they are resistant to warping, rotting, fading and discolouration which is good to know when looking at what colour you would like to purchase, safe in the knowledge that it won't fade.
Can You Restore the Colour of a Composite Door?
Although composite doors remain vibrant throughout their lifespan, they can dull in colour if you haven't kept up your cleaning routine. It's important to remove dirt and grime on a regular basis with a simple soapy solution, however, there is another DIY item which can help bring out the colour of the door even more.
A strong oil called Polytrol restores the shine and the original colour of plastics, timber and metals and can aid against future corrosion. When applying to the door, make sure that it has been dry for at least 24 hours otherwise it won't produce the effect you're hoping for.
What to Use
Over time, dirt, grime, cobwebs and bugs will collect on your door and it's important to use the right materials to wash them away. All it takes is a mixture of warm water and liquid soap, along with a soft sponge or micro-fibre cloth.
A simple wipe in an 's' movement from top to bottom with do the trick, making sure you're not missing any areas. It's up to you how frequently you do this, and it depends if you live by the coast where there's more build-up of salt or in an urban area with more pollution. However, once a month would be a suitable amount of time to clean your composite door.
What Not to Use
There are a number of products which aren't great for cleaning composite doors. This includes iron wool and abrasive sponges as this would scratch the door itself, and other items such as bleach so that you don't discolour the door.
How to Clean the Composite Door Glass
To clean the glass glazing on the door, again soapy water is a great solution along with a soft cloth. Make sure to not scratch the window or be too heavy-handed when cleaning. To give it that pristine shine, wipe it down with a dry cloth or newspaper and give it a second clean with window or glazing cleaner.
How to Clean the Composite Door Furniture
As well as the door itself, you've got to think about other accessories and furniture such as door knocks, handles, numbers and letter boxes. With a fresh bucket of warm water and soap make sure to give each aspect a good wipe down reaching into the corners and edges to remove any dirt and grime.
First impressions count after all! As the handle is the most used part feel free to clean it with an antibacterial spray to keep germs at bay.
How to Clean a Black Composite Door
Composite door cleaning is a quick and easy process, but what happens if you have a black door? Luckily they don't require as much maintenance as light-coloured and white doors. The same solution as all other composite doors will suffice, but it's important not to use abrasive materials or bleaches when cleaning as this will scratch and remove the door's colour.
For More Information?
Here at Crystal Clear, we care about quality, and your experience. We know that not every window or door is made the same, and that they require different methods of maintenance in order to give them the best care over the course of their life. Check out our section of maintenance guides to help prolong the life of your door or window.
Please never use any penetrating sprays such as WD40 or Double TT.
We recommend the use or 3 in 1 oil, spray oil, light grease or silicone spray to lubricate your moving parts.