At Crystal Clear Bristol, we supply and install a range of aluminium bifold and sliding doors. 
Partnered with the UK's industry leader, Origin, we have plenty of bifold and sliding door options for you to choose from – you're spoilt for choice. But we understand that it can be overwhelming if you aren't quite sure which is right for your home. 
With this in mind, our experts have put together a list of the pros of bifold doors and sliding doors to help you better understand what they have to offer. 
Keep reading to find out if bifold doors or sliding doors are right for you.
Want to inject more light into your home and create a seamless environment between outdoor and indoor living? Well, bifold doors may be exactly what you're looking for.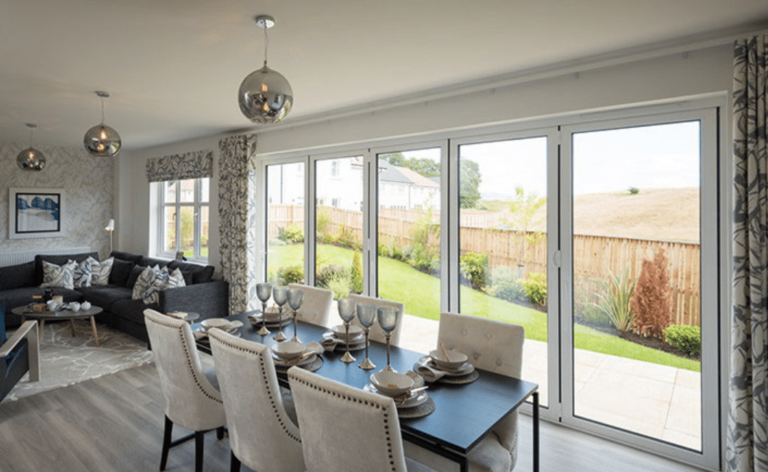 Say goodbye to unappealing doors that have little functionality. Our collection of bifold doors, designed and manufactured in the UK by industry leader Origin, may have just the thing for you.
Here are some of the reasons why homeowners choose aluminium bifold doors:
Timeless Strength, Style and Quality
Aluminium bifold doors are strong, stylish and durable. They are made from a premium quality material, so provide homeowners with a premium finish that is simply superb. Making your living space look modern and sleek on both the inside and out, they add an effortlessly luxurious touch to your home.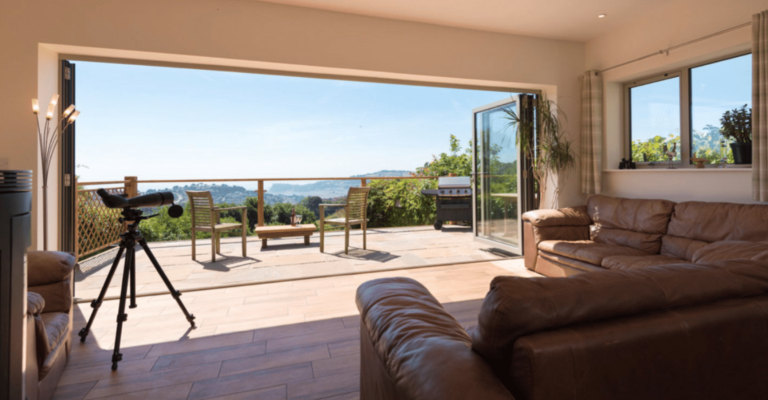 Fabulously Flexible
Opening either to the right or left, bifold doors offer flexibility, allowing you to open them to any width within the frame and customise where the leaves split. This means that you can just have part of it open to allow people to come in and out conveniently as they please.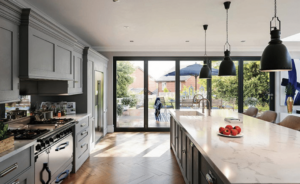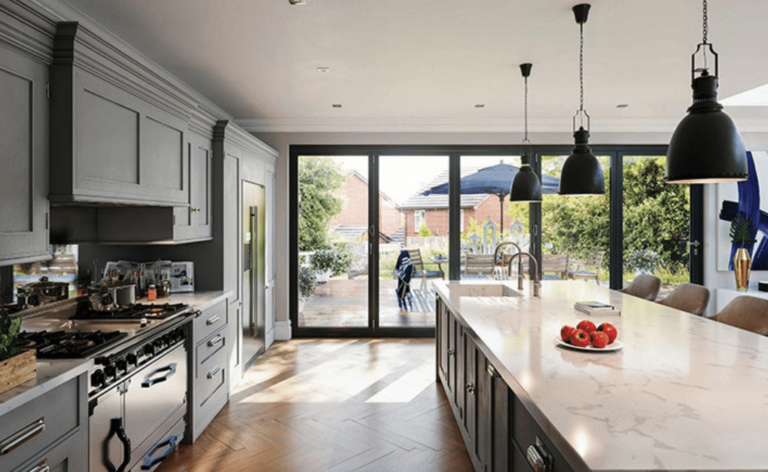 Natural Light Lovin'
If you love letting in the natural light, bifold doors may be perfect for you. Both open and closed, bifold doors allow maximum sunlight into your home, brightening up your living space.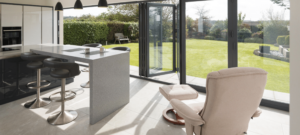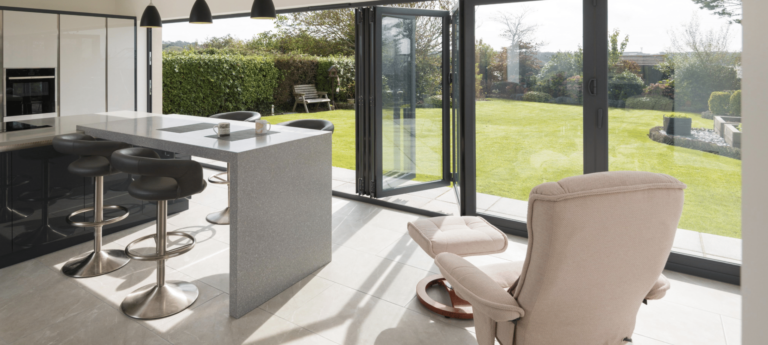 Bringing the Outdoors In
With bifold doors, you won't feel like you're cooped up inside. This is because you don't need to be outdoors to feel the same sense of freedom that it provides. Folding right back to the frames, bifold doors mean that you can experience the comfort of the indoors whilst bringing the outdoors in.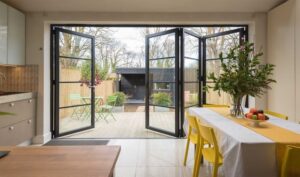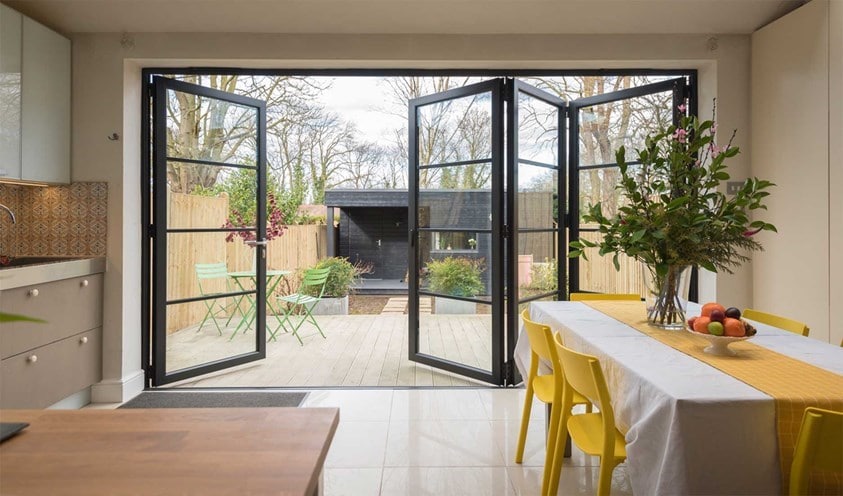 Safe and Secure
Bifold doors offer a high level of security because they feature internally beaded frames, high-security hinges and multi-point locking systems. This means you can sit back and enjoy your doors, knowing that your property is safe as well as looking good.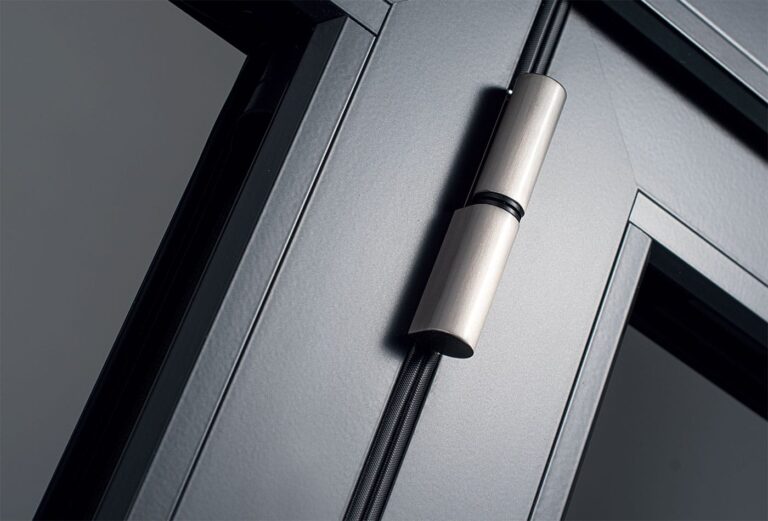 Effortless
Not only do they look good, but they also require little maintenance too! Like most other glass doors, bifold doors do require cleaning regularly to make sure they stay looking spotless. But because they don't have multiple panes or frames (unless you'd like them to), they are easier to clean than most other doors.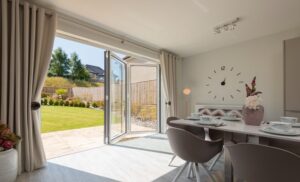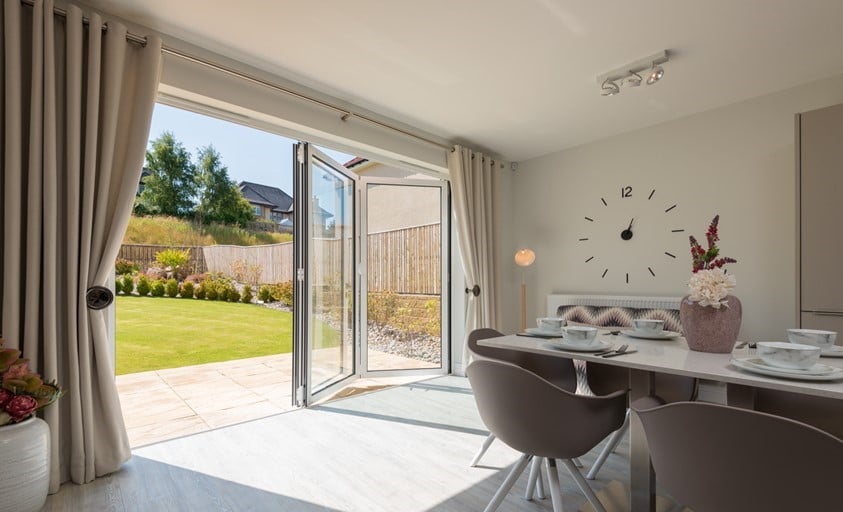 Keeping the Space
When bifold doors are open, they take up very little space. This means they cause virtually no disturbance to your home's natural flow, unlike traditional patio doors.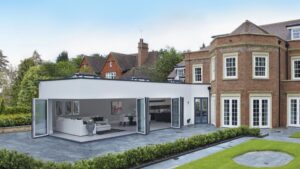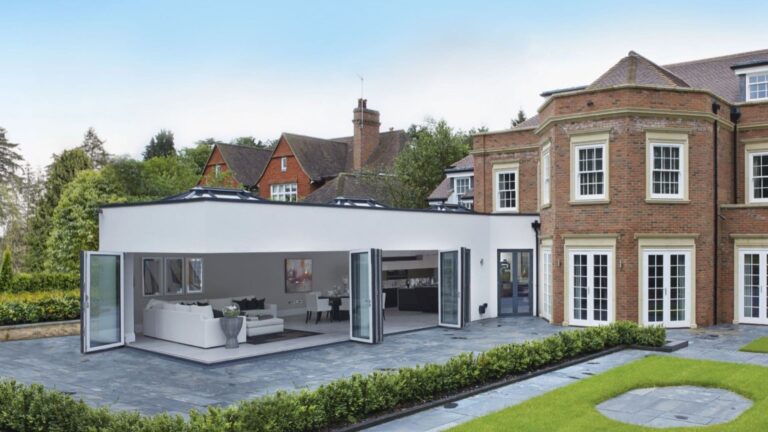 With bifold doors, each pane of glass has its own frame, which means that they offer a slightly obstructed view when closed, particularly when compared to the view provided by closed sliding doors. Though this can be minimised with Origin's aluminium bifold doors by choosing a thinner framed door. 
Homeowners must also bear in mind that bifold doors stack to one side when open, which could limit space (depending on location) when open.
View our range of aluminium bifold doors here.
The perfect fit for any new build, extension or older style of property, sliding doors offer uninterrupted widescreen views of the great outdoors. 
With every element considered, from child safety to custom colours and thermal efficiency, Origin's aluminium sliding doors are designed and manufactured in Great Britain. 
Here are some of the reasons why homeowners choose aluminium sliding doors:
More Glass, Less Frame
Sliding doors often provide a better U-value than other doors, as they are designed to have more glass and less frame. Allowing you to have bigger doors, they let plenty of natural light in through the large panes of glass. You can even have a thinner frame than bifold doors, depending on the manufacturer.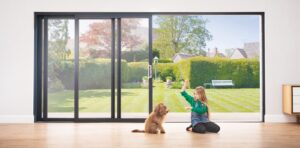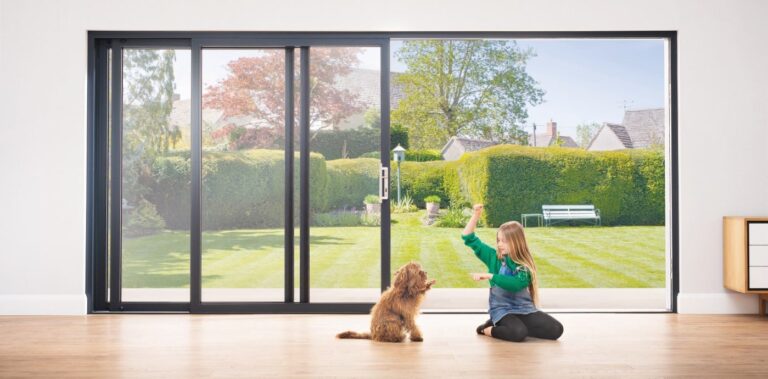 Effortless
Like most other windows and glass doors, they require cleaning regularly with detergent to ensure they stay looking spotless. But as they don't have multiple panes or frames they're generally easier to clean than most, and other than that you can just sit back and enjoy them.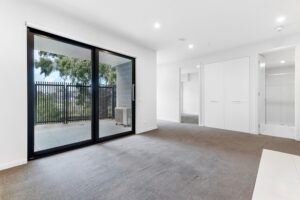 No Interruptions Please
When open, sliding doors take up no space at all inside or outside. They also don't interrupt the natural flow of your home – a win-win for those looking for a seamless home design.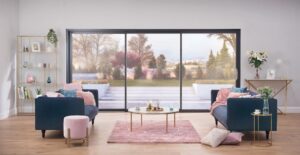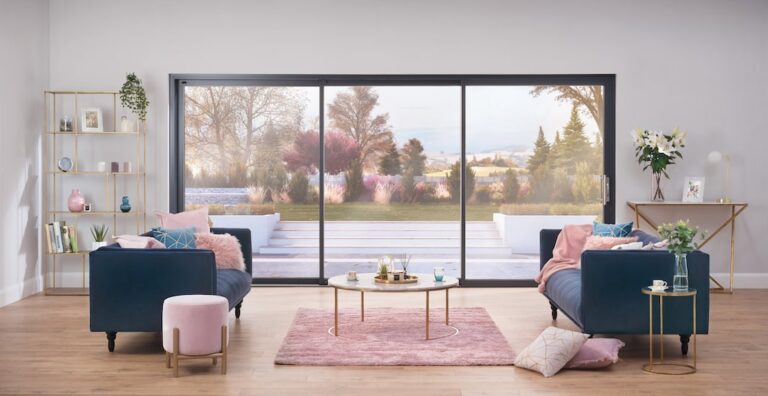 Best of Both Worlds
If you choose a sliding door with a 'Lift and Slide' system, you'll be able to open the door partially and lock it in place, giving you ventilation whilst being in the home – the best of both worlds.
Some sliding doors' tracks can be quite large but with Origin's slimline sliding doors, there is a choice of width to fit your individual needs and preference.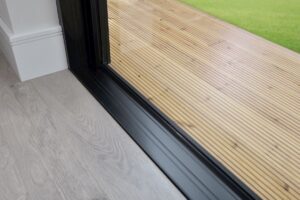 If you are looking for a door that opens completely, sliding doors may not be the choice for you. This is because they often have half an opening or 2/3 on a 3 pane with the rest not fully opening. If this is the case for you, bifold doors will be a better option.
View our range of aluminium sliding doors here.
Make An Enquiry
If you'd like to find out more about Origin's aluminium bifold and sliding doors, please get in touch with our team today. Give us a call on 0117 971 7880 or make an enquiry by clicking here.